Re: Orelo MK-II Imaging
.So must I go back to W7 because of this handful not working in order to let 1000s not work optimally ?
No. I refuse.
I better sit down and work out the frequencies where W7 behaves totally different from W8. That seems doable to me. Next I will be able to tune the speakers for where W7 is the better one and apply that to W8, Mind you, if so at all.
Done.
And you won't believe the story ...

Or maybe you do.
Let's start with me telling that I always wondered why the speaker needed a "notch" at ~90Hz. But, it needed it (to present a straight line performance) and so I applied it. However, it was in my mind that it could be a room anomaly, never mind I measure from very close (like 2cm).
So for a few weeks already I was tempted to remove this notch in order to see whether I'd receive a coloured sound from it, or whether it maybe would be for the better. And, after playing with Windows 7 for a week and perceiving the more deep down from earth bass - and after going back to Windows 8 that deep down being gone again, three days ago I finally did it.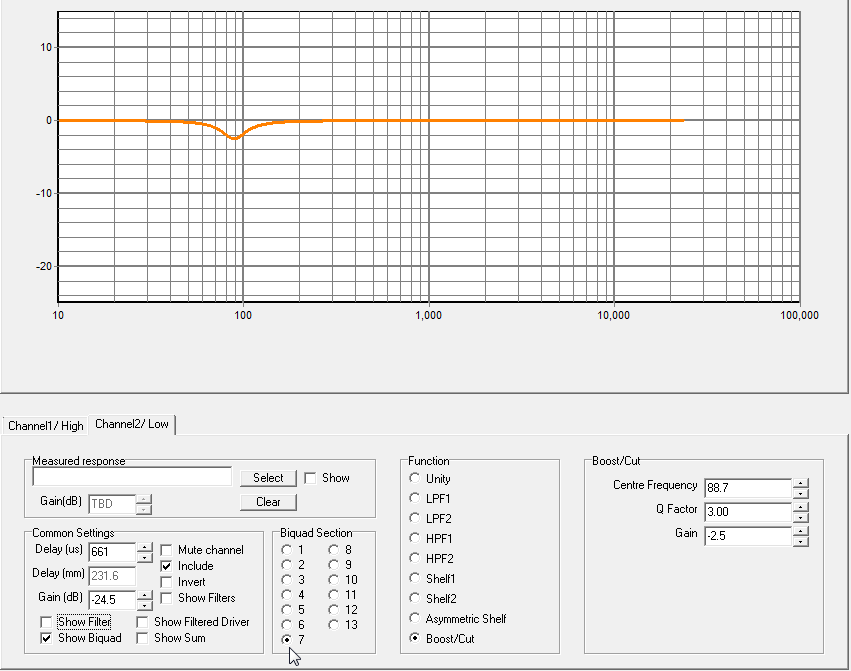 Here you see that notch and this thus went out.
Within a second it was clear to me : Windows 7 bass was back.
Well, not for all its aspects (W8 bass is better) but the deep down earth was there.
Aha.
And maybe in the next 10 seconds I knew what has been going on, and it is almost too stupid to put into words, but still ... how to think of such a thing. OK, I didn't.
What I have been saying for about ever, is that it is actually impossible to tune for example speakers through measurement means which are different from what we actually use for playback. Do I need to explain this ? I hope not, because it should be quite clear that if an XXHighEnd dial is able to bring us better bass or anything, that dial will not be present in official measurement means (that doesn't play XXHighEnd

) and so ... what will we be doing when utilizing such means.
So I was smart and I did NOT;
I used XXHighEnd for it and just played the test tones through that.
Not that I thought of using special "good SQ" settings ...
Let's say I have been in dual mode, because from one side I know that such settings make a difference, but from the other I also know they are not measurable.
Uhm ...
Small intermezzo to setup some tense :
We are currently with 6 if I count in Bert who applies similar to the Big Orelo. 5 of us tend to "complain" about very maybe wanting some more LF output. Notice that it is allowed to include me after comparing to W7. But also notice that there's one amongst us who doesn't complain at all. Actually the other way around - he's the only person who deemed it necessary to move the speakers more out of the corner. And he uses Windows 7. Me too found the LF to buzz too much, and me too had the idea that the speakers could use some more "out of the corners". But I never payed attention to it really because my W7 situation was temporary.
So what is the common sense here ?
Like I said, almost too stupid to put into words, but ALSO, I'm sure, no speaker builder with his best ideas of it all will think about it ...
Don't tune your speaker on a Windows 7 machine while intended use is on Windows 8.
Yep. So logical, once we start using our brains somewhat.
So that is what I did; Using my W7 machine containing all the sh*t for whatever work, and it includes the DSP software. And the recording hardware and drivers and all needed to do this. Of course I am not going to load my W8 audio PC with that.
Of course not.
But I should have.
Without me realizing it really back at the time(s), below you see how the Orelino was tuned. Mind you, although the design in the basics is rather the same, the drivers are totally different. Please notice that although the MKII was tuned later than the Orelino, the MKII was tuned from scratch, and no Orelino (DSP) base was used. Here :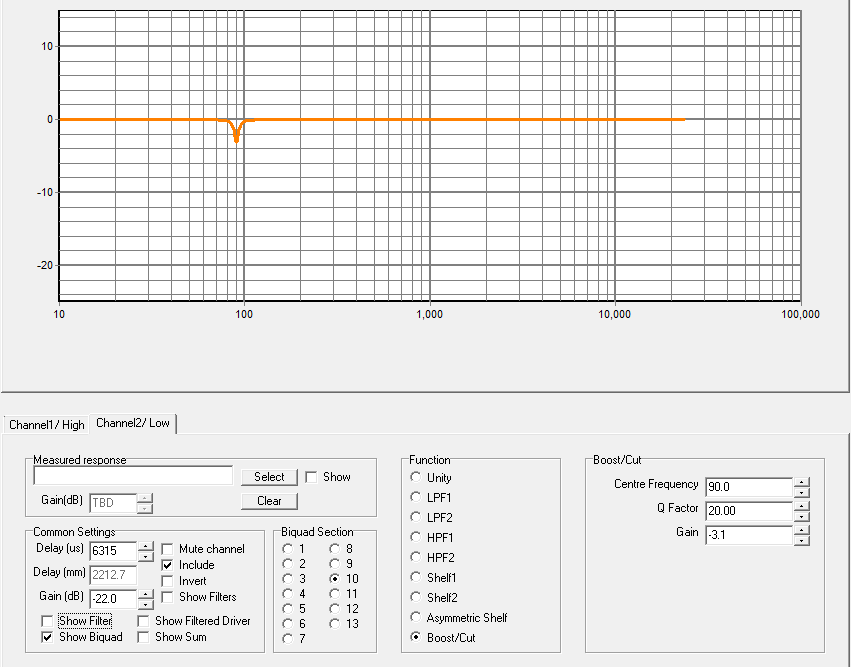 Same thing ? You can say so yes. There's a small difference in the peak frequency and also the range is smaller, but with the notice that this has been for myself only and wasn't setup in as much detail I applied for the MKII which was "for you". But you can bet I would have come to the "more same" when I had payed as much attention (and no exact 90Hz would have been used, to name something).
Anyway, same thing.
So :
Quote
Done.
Yes, with the big fun that I already had it done without me realizing it. So, assumed it is W7 which needs this while W8 does not need this, this is the difference for W7 against W8 in the LF area.
Please notice that this now has been determined audibly and that it is of course no real science that I myself judge W8 (without the notch) to sound the same now as W7 (with the notch).
For me this does not imply a buzz like W7 shows it, so I am the most happy with this. I suddenly found the best of both worlds ... The bass quality in optima forma, with the highs quality W7 never will show. The both combined makes the more profound highs more soft in the mean time.
Nice.
Nice, but how can it help people not being able to tune their speakers like Orelo MKII (and due Orelino) owners can ?
I really don't know in what direction to talk;
Highs should be way more profound from these mid-high horns to begin with, while bass is also way more profound to begin with. Fact seems to be that Windows 8 needs a boost of similar shape and position you see from the notch I had to apply. Don't ask me what reality is. I mean, when I had tuned the speaker(s) under Windows 8 that notch would not have been there and Windows 7 would have been deep down earth exploding; we know how much 2.5dB means for the low frequencies ... way much. And my W7 already showed a tad too much of it, let alone that 2.5dB could be added (I didn't try for listening).
It also won't be true that most people suffer from too much bass under W7, BUT, there are a few who can tune their speakers similarly, amongst them Coen who can't survive W8.
If the latter would be a measure then W8 must be the mere reality and those used to W7 should encounter a better bass quality in W8 (plus less grey in the highs).
And so, if this is correct both people like Coen and the MKII owners suffer from similar under W8 - too few bass output around that 90Hz region. They all tuned their speaker for Windows 7 ...
---
I hope this made some sense. But of course it was quite a revelation that I announced to be able to find the difference between W7 and W8 by means of measurement, while I actually already did.
Stupid stuff ...
Peter